The Vine Neighborhood Association works to keep the neighborhood vibrant and connected. As one of the oldest neighborhoods in the City of Kalamazoo, the Vine neighborhood plays an important role forming the community in the City.
Vine is a community within itself with its eclectic businesses. We pride ourselves on being a welcoming and diverse neighborhood.
The Vine Neighborhood offers downtown living for people who want to live near it all. Situated between Western Michigan University(WMU) and Downtown Kalamazoo, the Vine Neighborhood is attractive to long-term rental residents, students, and homeowners.
While Vine, itself, hosts several boutiques, niche markets and restaurants, and entertainment options, Kalamazoo's Central Business District, adjacent to Vine, is also easily walk-able.
Downtown Kalamazoo boasts one of the country's few Alamo Drafthouse movie theaters, countless breweries (including Bell's, Hopcat, and Arcadia Ales), 23 live performance stages, a large festival site, the Kalamazoo Valley Museum, the award-winning Kalamazoo Public Library, Bronson Park, and many more attractions.
In addition, several Metro Transit bus lines run right right through the Vine Neighborhood, linking residents to outlying points throughout the city.
Board of Directors
Board meetings are held on the 3rd Tuesday of each month at 5:30pm.
Board of Directors:
Name: Gwendolyn Hooker (The Chair)
E-mail: gwencrashcasehooker@gmail.com
Name: Daniel Staggs (Vice Chair)
E-Mail: dappertattooerdan@gmail.com
Name: Jayne Gulliver (Secretary)
E-Mail: jbirdvintage@gmail.com
Name: Emily Alexander (Treasurer)
E-Mail: emilycarter712@gmail.com
Name: Ellen Nelson (Events Committee Chair)
E-Mail: ellennelson90@gmail.com
Name: Elizabeth Smith
E-Mail: esmith@goodwillswmi.org
Name: Dustin Black
E-Mail: dustin.ian.black@gmail.com
Name: Naomi Barnes
E-Mail: eveningprimrose05@gmail.com
Executive Director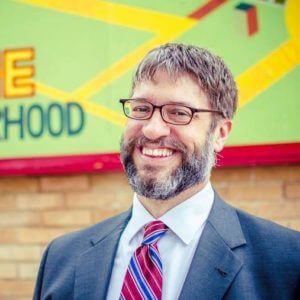 Steve Walsh was born in Detroit Michigan. He graduated from the University of North Dakota with a B.S. in History, and with his partner Sarah, moved to Kalamazoo's Vine neighborhood in 2001. After a brief stint as a Montessori Instructor, he accepted the position of Executive Director of the Vine Neighborhood Association, a position he has held since 2007. He loves to play with his children, read, eat too much, and attend movies and local music shows.
"I love what I get to do because I love this neighborhood. I truly believe it's a privilege to work for the Vine Neighborhood Association, and I'm honored to serve its residents."

Community Care
Community Care (formerly Neighborhood Watch) meetings occur on the 1st Tuesday of each month at 5:30pm.
Contact Information
Address:
806 S. Westnedge
Kalamazoo, MI 49008
Phone:
269-349-8463
Email:
info@vineneighborhood.org
Hours:
Monday – Friday, 9:00am – 4:00pm